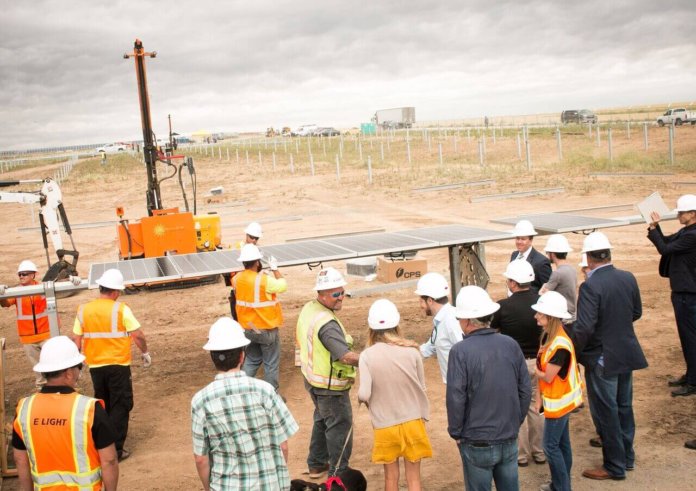 SunShare, a community solar developer based out of Denver, is launching 10 MW of community solar gardens in Colorado.
At a recent solar panel-raising event in Watkins, attendees had a hands-on experience installing solar panels with E Light Construction for a ground-mounted community solar garden named Imboden V, located 10 miles southeast of Denver International Airport.
Collectively the Imboden Solar Project, two 2 MW community solar gardens under construction will join three 2 MW gardens that are already operational. The subscribers to these gardens include the Cities of Arvada and Westminster, as well as low-income partners such as the housing authorities of Adams and Jefferson counties.

The celebration featured Colorado gubernatorial candidate U.S. Rep. Jared Polis, along with representatives from the Colorado solar industry, including the Colorado Solar Energy Industries Association, the Coalition for Community Solar Access, GRID Alternatives and Xcel Energy.
"I am committed to our state being powered 100 percent by renewable energy by 2040, and community solar gardens like this will definitely move us towards that goal," said Polis. "They are a great way to broaden access to clean renewable energy that directly benefits Colorado communities while also creating green jobs for Coloradans to boost the local economy."
"Now, individuals and organizations that were unable to install solar on their rooftops can choose community solar and benefit from clean, affordable electricity," noted David Amster-Olszewski, SunShare's founder and CEO. "As one of the first community solar companies, we are proud to be at the forefront of a rapidly expanding segment of the renewable energy industry."