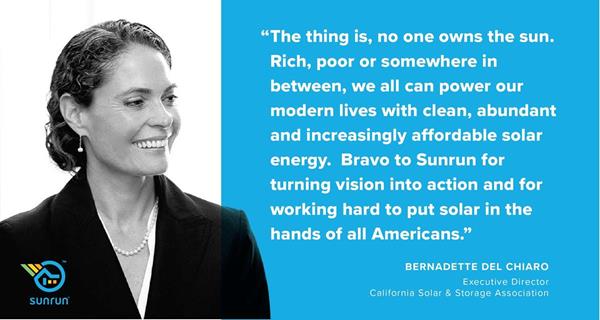 Sunrun Inc. is launching an expansion of its low- and moderate-income solar offering. Notably, in California, the company plans to develop a minimum of 100 MW of solar on affordable multifamily housing, where 80% of tenants fall below 60% of the area median income.
To date, according to Sunrun, 39 MW of solar has been installed on affordable multifamily dwellings through the California Public Utilities Commission's (CPUC) Multifamily Affordable Solar Housing program and will continue through its successor program, Solar on Multifamily Affordable Housing (SOMAH). Sunrun's new commitment aims to satisfy one-third of the SOMAH program's goal of 300 MW of solar on affordable housing by 2030. The installations will be done at no cost to the tenants, the company notes.
"Sunrun is built on the foundation that solar energy should be accessible to everyone," says Lynn Jurich, Sunrun's co-founder and CEO. "In offering affordable home solar to residents in low- and moderate-income housing, we're able to support the communities that often experience the most harmful effects of pollution and climate change. This expansion further illustrates the essential role of home solar in improving people's livelihoods, supporting a healthier environment and building a more resilient energy system for everyone."

SOMAH was developed by Assemblymember Susan Eggman, who is applauding Sunrun's commitment to the program:
"It has taken years of work from stakeholders, staff and the CPUC to get this program running, and I look forward to getting it launched as soon as possible," she says. "This policy was designed to ensure that families in low-income and disadvantaged communities can also reap the benefits of the booming solar energy industry in California, and the closer we get to these first installations, the closer the benefits are to these deserving families."
In addition to its commitment in California, Sunrun is also introducing a discounted electricity rate for low-income residents in Nevada, supported by the state's RenewableGenerations program. The company will also continue its six-year partnership with GRID Alternatives, through which Sunrun says it has helped install 2.5 MW of solar for 260 families and generated significant job opportunities for GRID trainees.
Speaking on the new Sunrun expansion, Bernadette Del Chiaro, executive director of the California Solar & Storage Association, says, "The thing is, no one owns the sun. Rich, poor or somewhere in between, we all can power our modern lives with clean, abundant and increasingly affordable solar energy. Bravo to Sunrun for turning vision into action and for working hard to put solar in the hands of all Americans."