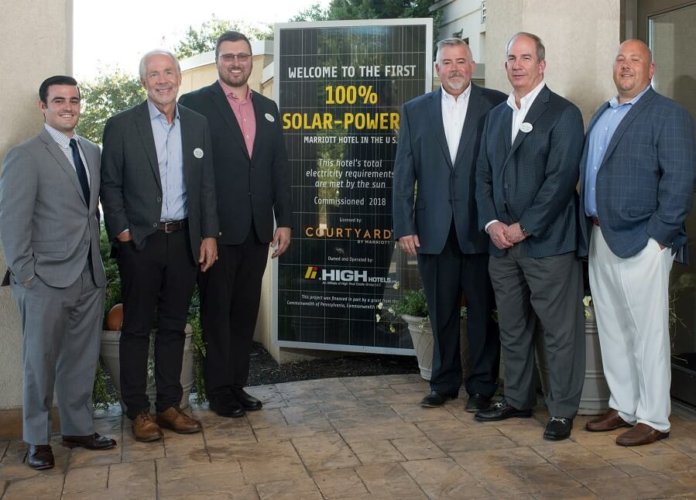 The Courtyard by Marriott-Lancaster in Lancaster, Pa., has officially switched its electric power to 100% renewable energy, thanks to a newly completed solar array.
The Beatles' "Here Comes the Sun" played as High Hotels Ltd. staff unveiled a solar panel representing the new project, and the lights ceremoniously dimmed at the moment the power switched over to 100% solar. About 75 staff, community members, elected officials and onlookers watched as a real-time meter in the hotel lobby displayed the solar power produced by the project.
The celebration marked the completion of the 135,200-square-foot project, installed by Ephrata, Pa.-based Meadow Valley Electric Inc. Due to its size – more than twice as big as a football field – the 2,700-panel array was placed on the roof of a warehouse about half a mile from the hotel.

"Our guests now have the satisfaction of knowing that they are staying in a hotel that's fully powered by the sun," says Russ Urban, president of High Hotels. "As a company, we're strong believers in environmental stewardship, and taking this step into renewables aligns with the interests of a growing segment of the traveling public."
Urban notes that guests will notice no difference in the function of electrically powered amenities at the hotel.
At 133 rooms, the Courtyard by Marriott-Lancaster is the first Marriott-branded hotel in the U.S. with 100% of its electricity needs generated from solar power, according to High Hotels.
The solar array produces 1,239,000 kWh of power for the hotel, which consumes 1,177,000 kWh; excess power is sold to the utility. High Hotels received a grant of $504,900 from the Commonwealth Financing Authority through the Solar Energy Program to complete the project.