Bloomberg New Energy Finance estimates that investment opportunity in the solar energy market through 2040 will be approximately $2.8 trillion. Much of that investment will come from governments and institutions.
However, one firm, Wunder Capital, is allowing individuals to take part in the solar energy revolution by supporting small and medium-sized businesses and nonprofits as they make the transition to solar energy.
The massive growth seen in the solar energy sector over the last few years has been primarily driven by project economics – meaning that solar is now cost-competitive with traditional energy sources like coal and natural gas. Solar has achieved a remarkable cost decrease of ~10% annually for the last 40 years (see figure).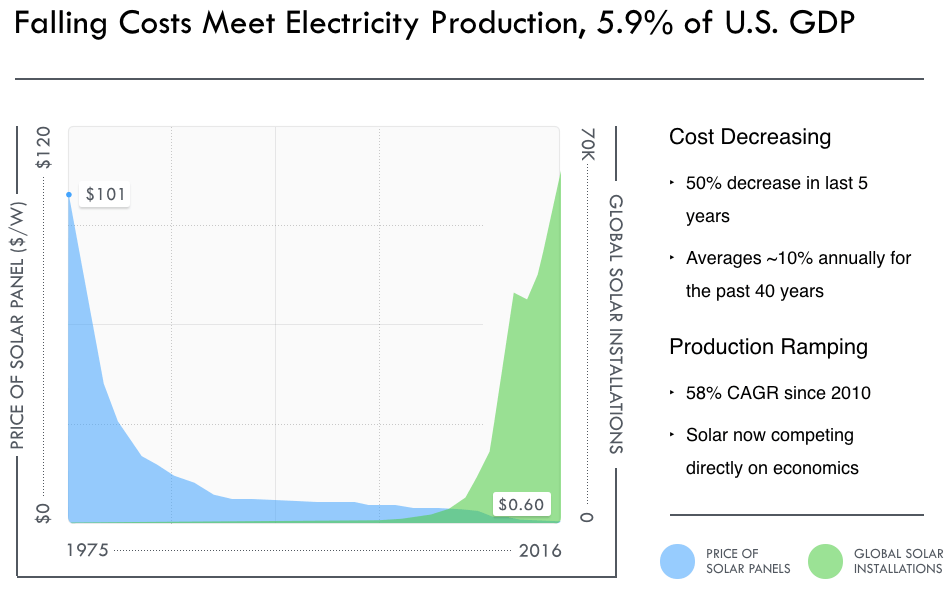 Even though the cost of solar is now competitive with other energy sources in many U.S. states, the upfront cost for small and medium-sized businesses as well as nonprofits is still prohibitively expensive (with an average system cost of a few hundred thousand dollars). Because of this, the commercial solar sector has grown much more slowly when compared to the residential and utility-scale solar sectors (see figure).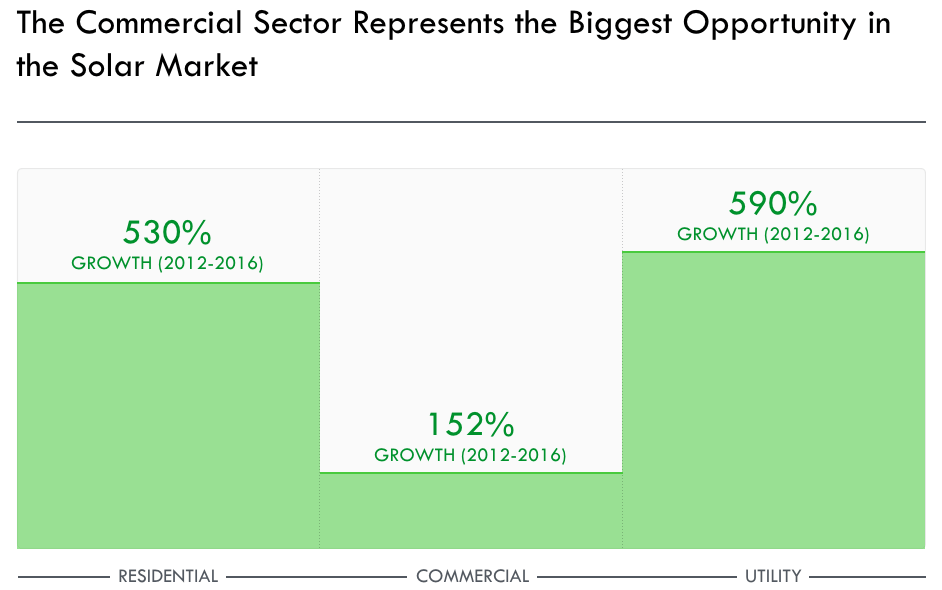 Wunder Capital's mission is to help fix that problem by providing simple, cost-effective financing solutions to qualified borrowers across the U.S. to help them go solar and save money each month on their energy bills. Wunder Capital has a network of 155 solar installers and developers across 30 states who send them projects to review on a weekly basis.
To date, Wunder Capital has completed over 200 solar financings across the U.S. Wunder's "2017 Year-in-Review" includes some impressive stats.
None of Wunder's solar loan portfolios has suffered any losses or write-offs, meaning that investors' projected returns have been met. Wunder Capital has two funds currently available for investors: the Wunder Income Fund and Wunder Capital 5 (see figure).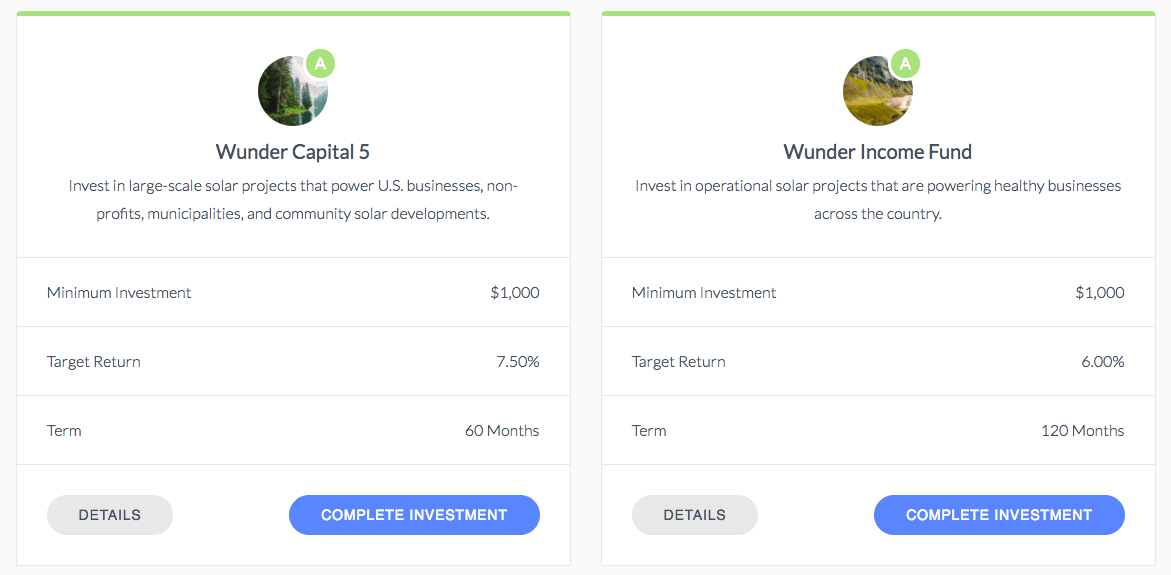 Wunder's newest fund, Wunder Capital 5, was launched this past October and has raised over $20 million. Wunder has achieved record project pipeline numbers in the last several months, with over $110 million in commercial solar projects in October alone (see figure).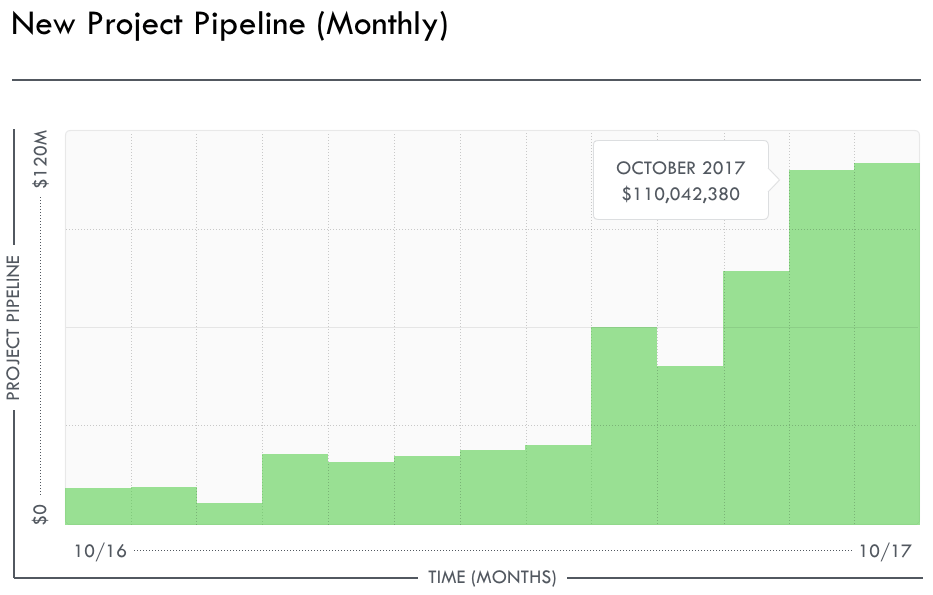 Here's a quote from a current Wunder investor, explaining his experience thus far with Wunder Capital:
"I liked the market space Wunder looked to serve. Solar is but one of the many great ideas to keep literal energy flowing through the economy while leveraging established infrastructure and resources. The missing piece seemed to always be financing a long-term investment in an economy built on short-term results. Wunder spoke to this well, and I bought in." – Wunder investor Skip Larson
About Wunder Capital: Wunder is a financial technology company that is based out of Boulder, Colo. Founded in 2013, Wunder won the U.S. Department of Energy's 2014 Sunshot Challenge, as well as COSEIA's 2015 Summit Award. Wunder also participated in the Techstars technology accelerator program. Although Wunder's solar funds are capitalized by individual accredited investors, the parent company and the operator of each of Wunder's solar funds – The Wunder Company – is backed by venture capital (from the likes of Techstars Ventures, Fenway Summer and Fintech Collective, as well as others).
About the Author: Bryan Birsic is the founder and CEO of Wunder Capital and brings extensive finance and capital-raising expertise to Wunder, from private equity investing at Bain & Company to financing online commercial lending companies at Village Ventures. Notably, Bryan's firm led early investments into commercial lending market leader OnDeck Capital. Along with his finance background, Bryan has built and led several companies that bring software approaches to new markets, most notably and recently SimpleReach, where Bryan was president and which has raised more than $15 million. Bryan attended Williams College and moved with his family to Boulder from New York City several years ago.
This post is supported by Wunder Capital
The post Invest In Commercial-Scale Energy Projects, Earn Up To 7.5 Percent Annually appeared first on Solar Industry.