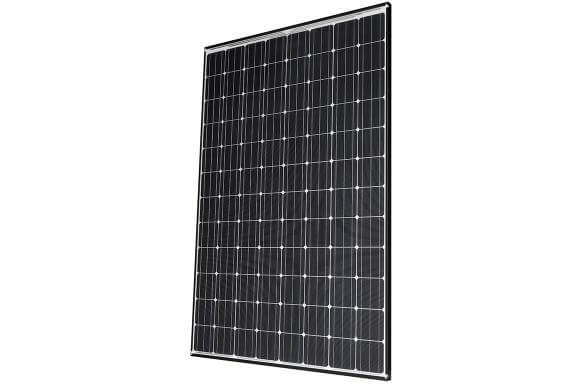 Panasonic Eco Solutions of North America, a division of Panasonic Corp. of North America, has unveiled new high-efficiency HIT series solar modules.
The expanded Panasonic Photovoltaic HIT portfolio of 96-cell, 40-millimeter modules includes the N340/N335 HIT+ Series with 20.3/20% module efficiency and the N335K/N330K HIT+ BLACK Series with 20/19.7% module efficiency, expected to be available in the U.S. in 2019.
According to the company, new features include as follows:
Higher efficiency that enables higher power output and greater energy yields;
A new 40-millimeter frame designed to increase durability and strength and handle loads of up to 5400 Pa;
A water drainage system;
Low degradation with HIT "N-type" cells, resulting in low light induced degradation (LID) and zero potential induced degradation (PID) to support reliability and longevity; and
A 25-year warranty that covers module performance and workmanship.

In addition, the new modules are designed to generate more solar power in all conditions due to Panasonic's "industry-low" temperature co-efficient of -0.258%/degrees C, the company claims.
In addition, Panasonic and Enphase Energy, partners in developing high-efficiency AC modules, have unveiled the N330E HIT AC Series with Enphase IQ 7X, an all-in-one module that features built-in-intelligence with an integrated Enphase IQ 7X micro-inverter.
Additionally, the integrated Enphase micro-inverter is field-replaceable, removing the need to replace the entire solar module and yielding operations and maintenance cost-savings that maximize return on investment for homeowners. The N330E HIT AC Series is expected to be available in the U.S. in early 2019.
Further, Panasonic and SolarEdge Technologies Inc. recently introduced the HIT S Series module, also expected to be available in the U.S. in early 2019.
"The opportunity for U.S. homeowners to make the transition to solar energy is only growing, especially in the face of rising temperatures and ever-increasing natural disasters," says Mukesh Sethi, general manager for the solar and energy storage division at Panasonic Eco Solutions North America. "Today, Panasonic is not only unveiling our latest HIT series innovations, but we are also demonstrating the importance of strategic collaboration and technology integration with leading industry partners. Our main mission with these advancements? To deliver solar solutions that homeowners need to increase freedom from the grid and assert energy independence over the long term."