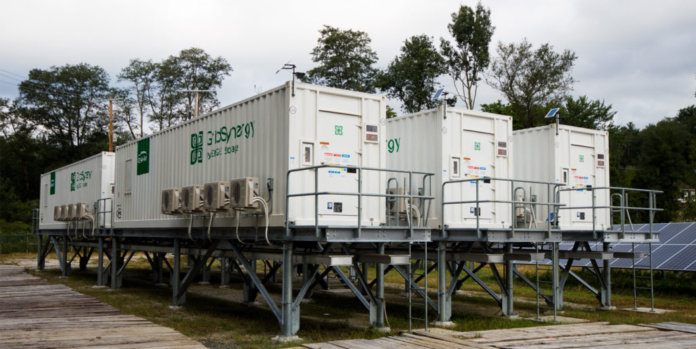 ENGIE North America and Holyoke Gas & Electric (HG&E) recently unveiled a 3 MW/6 MWh energy storage system at the Mt. Tom Solar Farm in Holyoke, Mass.
ENGIE Storage Services (formerly Green Charge) will operate the GridSynergy system, which will be fully integrated into the largest community solar farm in the state at a location adjacent to the former Mt. Tom Power Station. The former coal- and oil-fired generation facility, situated 90 miles west of Boston, operated for more than 50 years and ceased operations in 2014.
According to the partners, the project represents the largest utility-scale energy storage system in Massachusetts. Over a 20-year term, it will enhance HG&E's electricity system and help keep electric rates stable by reducing rising capacity charges for the utility and its customers, the partners say. Additionally, it will provide grid stability by responding quickly to electricity demand fluctuations, allow for the increased use of clean energy and reduce peak load burden on the existing electrical distribution system.

"This project is the perfect illustration of energy transformation in action – affordable, clean energy replacing traditional fossil fuel power generation," says ENGIE NA's president and CEO, Frank Demaille. "Solar energy, optimized by energy storage, is key to a low-carbon, low-cost energy future."
"HG&E and its ratepayers will receive significant value, as this battery can respond instantaneously to relieve stress on the power grid and help stabilize costs during period of peak demand or volatile pricing," notes James Lavelle, manager of HG&E.
"It's been gratifying to see the Mt. Tom property transform over the last few years," adds Holyoke Mayor Alex Morse. "This state-of-the-art battery storage system enhances our ability to increase Holyoke's renewable energy portfolio, and we are hopeful that the Mt. Tom Energy Storage project will be the first of many storage projects that help us advance our environmental objectives."