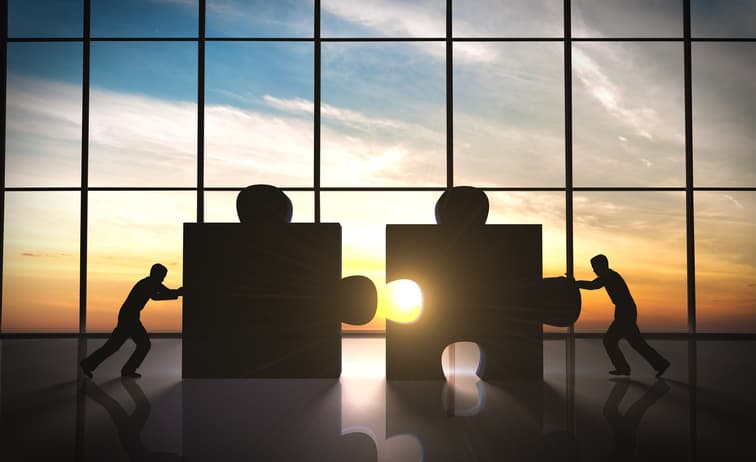 During the first nine months of the year, total corporate funding for the global solar sector totaled $6.7 billion, which is slightly lower than the $7.1 billion raised during the same period in 2017, according to a new funding and mergers and acquisitions (M&A) report from Mercom Capital Group LLC.
This total includes venture capital funding, public market financing and debt financing. Further, there were 103 deals in 9M 2018 compared to 143 deals in 9M 2017.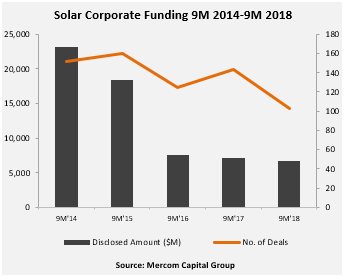 "Decline in solar demand around the globe has had a strong effect on corporate financing activity in solar, especially with most solar company stocks in negative territory at the end of the third quarter. M&A activity, on the other hand, has remained robust, especially project acquisitions," says Raj Prabhu, CEO of Mercom Capital Group.
Global venture capital funding (venture capital, private equity and corporate venture capital) for the solar sector in 9M 2018 totaled $889 million, representing a 10% decrease compared to the $985 million raised in 9M 2017, according to the report.
The report says VC funding for the solar sector held steady in Q3 2018, with $359 million raised in 12 deals, compared to $370 million raised in 15 deals in Q2 2018.
The top VC deal in the third quarter of 2018 was $200 million raised by Cypress Creek Renewables. It was followed by Nexamp's $54 million, Cleantech Solar's $50 million, Arcadia Power's $25 million and Pegasus Solar's $10 million. A total of 25 VC investors participated in solar funding in the third quarter of 2018, according to the report.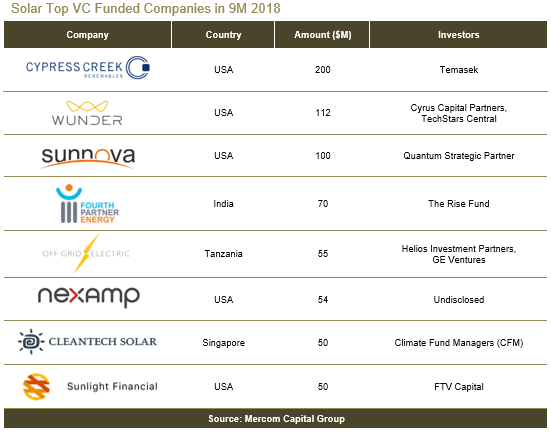 Mercom says solar public market funding was higher in 9M 2018, with $1.8 billion raised in 14 deals, compared to $1 billion raised in 23 deals in 9M 2017.
Furthermore, debt financing activity in the first nine months of 2018 declined by almost 21% to $4 billion in 40 deals compared to 9M 2017, when $5.1 billion was raised in 51 deals.
Announced large-scale project funding in 9M 2018 crossed $11 billion for the development of 137 projects. For the third quarter of 2018 alone, announced large-scale project funding came in at more than $3 billion in 39 deals.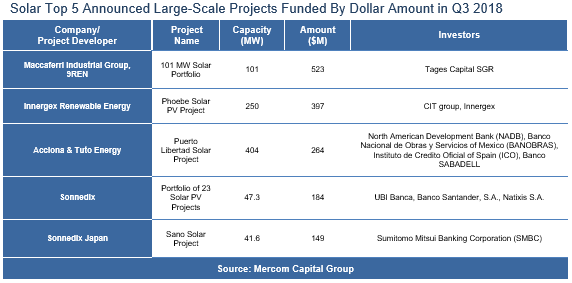 Announced residential and commercial solar funds totaled $1 billion in 9M 2018, compared to the $2.2 billion raised during the same period of 2017, the report says.
The first nine months of 2018 saw a total of 64 solar M&A transactions, compared to the 59 transactions seen in 9M 2017. Of the 18 total transactions in Q3 2018, nine involved solar downstream companies, six involved balance-of-system companies, two were with service providers and one was with a module manufacturer, the report points out.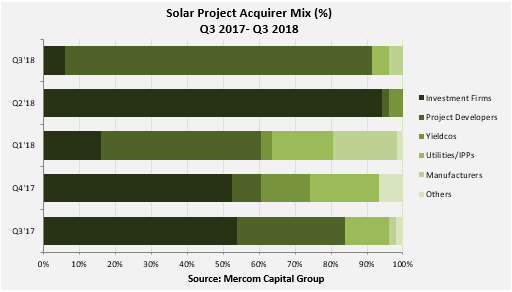 Further, says Mercom, there were 166 large-scale project acquisitions in 9M 2018 that aggregated over 23.6 GW, compared to 161 project acquisitions totaling 14.6 GW during 9M 2017.
Project developers were the most active acquirers in Q3 2018, purchasing 22 projects totaling 8.5 GW, followed by investment firms, purchasing 21 projects totaling 2.86 GW.
More on Mercom's report can be found here.