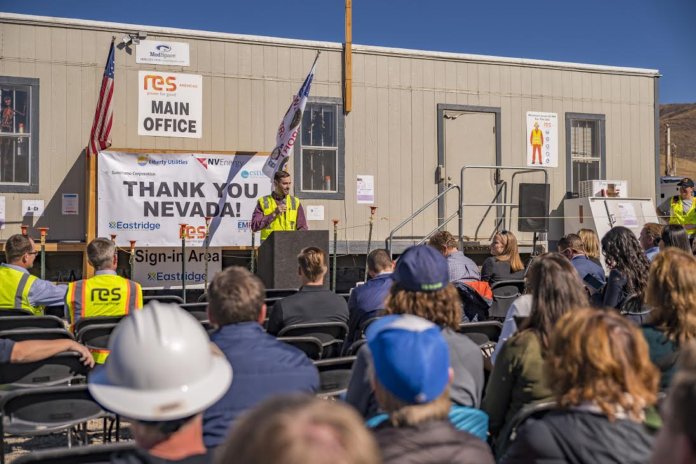 On Tuesday, northern Nevada business and government stakeholders gathered to celebrate the creation of over 100 jobs for Nevada residents, thanks to the construction of a new solar project.
Renewable Energy Systems (RES) was recognized for the construction of the first phase of the Turquoise Solar project, which is expected to generate 60 MW of power once it is operational. The project is located at 21905 Reno Technology Parkway East in the City of Reno.
RES partnered with Empower America and Eastridge Workforce Solutions to deliver a workforce comprising 80% Nevada residents, including 20% military veterans.

Construction on the first phase of the Turquoise Solar project began in July and is scheduled to be complete by the end of 2019. This phase of the project will generate 10 MW of power, and phase two will bring the total energy output to 60 MW, enough energy to power nearly 10,000 homes annually.
"RES strives to hire local labor for all our renewable energy projects," says Tim Jordan, RES' vice president of solar construction. "We are pleased to bring solar energy to the great state of Nevada and have completed over 972 MW of solar projects globally."
"Empower America is proud to be a part of the Turquoise Solar project and assist in hiring military veterans," adds Mario Pabon, president of Empower America. "Too many veterans return home looking for a way to support their families and end up in dead or low-paying jobs. The Turquoise Solar project has been an instrumental in saying thank you and helping our veterans begin the start of a great civilian life."