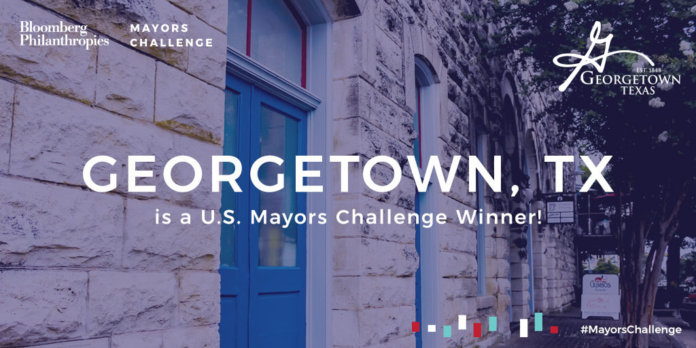 As a winner of Bloomberg Philanthropies' U.S. Mayors Challenge, the City of Georgetown, Texas, aims to become the first "energy-independent" community in the country by partnering with residents to install solar panels and battery storage at their homes.
Michael R. Bloomberg has announced Georgetown as one of nine winners of the U.S. Mayors Challenge, a yearlong competition that challenged city leaders to uncover and test "bold and inventive" ideas to confront the toughest problems faced by cities today. Nine cities will each receive $1 million.
The City of Georgetown – which is already powered entirely by clean energy – says it was selected as a winner for its approach to developing a virtual power plant. Georgetown aims to lease rooftop space for solar panels and ground space for batteries from residential and commercial properties, offsetting the future need to purchase additional power from outside sources to meet growing peak power demand.

Though Georgetown is the first and largest city in Texas to secure 100% of its purchased power from renewable sources, the city says, there are cost uncertainty and reliability concerns related to transporting that energy over long distances. This plan is designed to help shore up some of those uncertainties.
"Last year, the Georgetown city council adopted a new vision statement: 'Georgetown: A caring community honoring our past and innovating for the future.' Like all cities, we know in this radically changing world we need to be agile and innovative to remain sustainable, competitive and resilient," says Georgetown Mayor Dale Ross. "Bloomberg's iterative approach helped us engage with the public in a way that dramatically improved our idea. With Bloomberg's support, we've developed a model with greater community support and better financial viability. We look forward to making the virtual power plant a reality."
"Mayors across the country are tackling the big issues that Washington is ignoring. This competition is designed to help them do even more by incentivizing and supporting big – and achievable – new ideas," says Bloomberg.