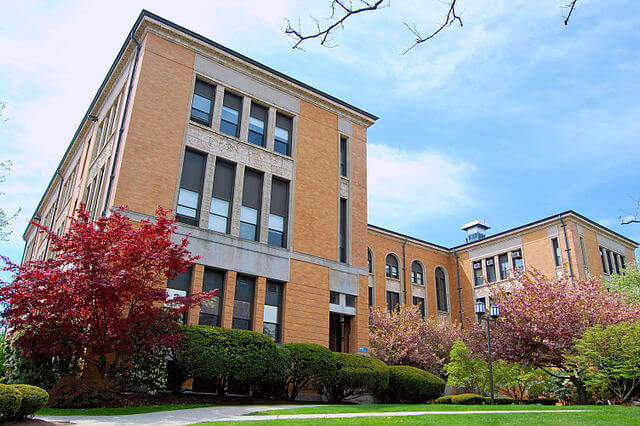 Massachusetts' Baker-Polito administration has announced $193,500 in funding to Salem State University (SSU) for the installation of three rooftop solar systems totaling 387 kW.
The solar installations, located at the Berry Library, Marsh Hall and the Gassett Fitness Center, are estimated to save SSU $28,500 in annual electricity costs and generate 439,000 kWh of electricity through a 20-year, third-party power purchase agreement – with no upfront cost to the university. Specifically, the projects are expected reduce SSU's electricity costs by approximately 45% from about $0.14/kWh to $0.08/kWh.
This grant marks the first award under the $5 million solar grant program launched earlier this year by the state's Department of Energy Resources (DOER) to encourage solar development at state entities.

"Our administration is investing in solar development at state entities because expanding solar infrastructure using our existing state assets is a prime opportunity to maximize our renewable energy generation, lower emissions and reduce costs," says Gov. Charlie Baker, R-Mass. "The commonwealth's public colleges and universities continue to go the extra mile to support Massachusetts' clean energy leadership, and these projects at Salem State University will benefit the environment and save money, while the campus leads by example for its students and the surrounding community."
"DOER is proud to partner with state colleges and universities to reduce the commonwealth's energy costs, usage and emissions," adds Judith Judson, DOER commissioner. "DOER's Leading by Example program continues to provide our partner agencies the tools they need to remain on the cutting edge of clean energy innovation and contribute to our ambitious clean energy goals."
DOER's Leading by Example Program works collaboratively with state agencies to meet specific targets for greenhouse-gas emission reductions, energy consumption reduction and renewable energy procurements.
Salem State's new solar installations add to a wide-ranging campus sustainability initiative, which includes an existing 216 kW of solar, four electric vehicle charging stations, five buildings certified by the U.S. Green Building Council's Leadership in Energy and Environmental Design (LEED) standards, a compost program, and a 22% reduction in campus water use from 2014 to 2017.
"We are grateful for this significant investment from the state, which will triple the amount of solar power we have on our campus," says John Keenan, president of the university. "Salem State has proudly signed on to Second Nature's Presidents' Climate Commitment to be carbon-neutral by 2050, and these solar installations are critical as we work toward that goal. Advancing our sustainability goals is not only the right thing to do for our planet, but it also supports our efforts to contain costs for our students."
Funding for these grants is available through proceeds from alternative compliance payments paid by retail electric suppliers that do not meet their renewable portfolio standard compliance obligations through the purchase of renewable energy certificates.
Salem State University photo by Fletcher6 [CC BY-SA 3.0 (https://creativecommons.org/licenses/by-sa/3.0)], from Wikimedia Commons