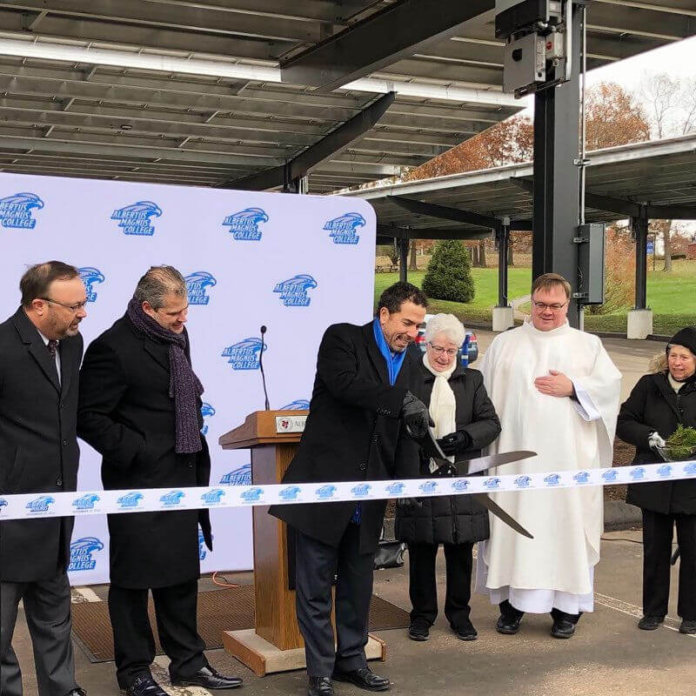 Albertus Magnus College, a Catholic liberal arts school in New Haven, Conn., has cut the ribbon on a 770 kW solar carport system located on parking lots throughout campus.
The project is expected to offset approximately 30% of Albertus Magnus' annual electricity consumption. Joining Albertus for a ribbon-cutting ceremony on Thursday were project partners Green Street Power Partners LLC, Shawmut, Swinerton Renewable Energy and The United Illuminating Co. (a subsidiary of AVANGRID).
"This solar power sustainability initiative aligns with our mission-centric values and also enables us to offset a significant portion of our annual electrical consumption," says Dr. Marc M. Camille, president of Albertus Magnus College.

The system is projected to produce approximately 923,940 kWh of electricity annually. The college will purchase the power at a competitive, fixed rate under a 25-year power purchase agreement.
"It's evident that Albertus Magnus College has a forward-thinking mindset to create a sustainable future for their campus," says Scott Kerner, CEO of Green Street Power Partners. "We are proud to be Albertus Magnus' chosen solar partner as they bring renewable energy to their school."
In addition to solar carports, Albertus Magnus is planning a 228 kW rooftop array on its athletic center, offsetting an additional 10% of the campus' electricity.