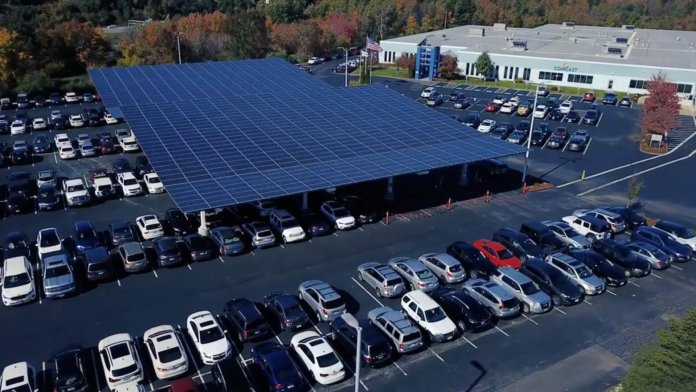 Comcast has announced the completion of a 950-panel, ground-mounted solar installation that will help power its Northeast Division headquarters in Manchester, N.H.
The telecommunications company worked with Sunpower to install the parking lot-based solar array, which will generate as much as 500,000 kWh of power annually, or the equivalent of 40 homes' worth of electricity.
"Technology, innovation and talent are at the core of everything Comcast does, and generating clean energy on-site at our Manchester facility demonstrates our commitment to a culture of sustainability and a way to empower our employees to foster a cleaner, healthier environment," comments Kevin Casey, president of Comcast's Northeast Division.

The project also enabled the installation of two dual-port electric vehicle charging stations beneath the solar panel canopy; they can charge four vehicles simultaneously. The solar system also provides covered parking spots for employees during inclement and hot weather.
"As one of the largest employers in the City of Manchester, I commend Comcast for its focus on sustainable technology," says Joyce Craig, mayor of Manchester. "I hope this investment in clean energy will provide inspiration to others and give them the push they need to dedicate resources to sustainability in our community."