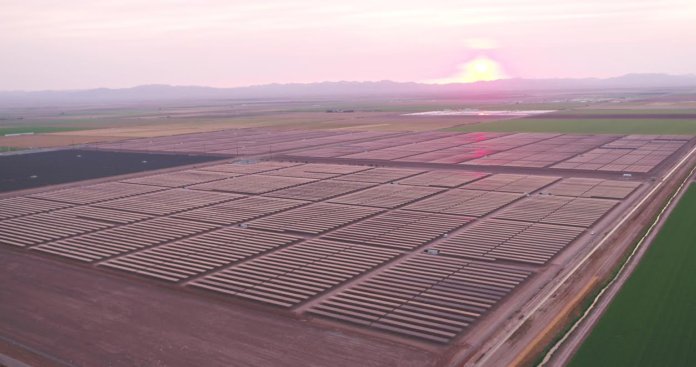 McCarthy Building Cos.' renewable energy team, based out of Phoenix, recently completed construction on the Midway III solar project, a new 26 MW facility located in Calipatria, Imperial County, Calif.
The project is owned by Greenbacker Renewable Energy Co. LLC. Mechanical production at Midway III began in the first quarter, and the project was completed in September. Midway III sells all generated power to a large California utility through a 20-year, fixed-price power purchase agreement.
"When we announced the purchase of this pre-construction project last year, we estimated that it would take until October 2018 to complete," says Charles Wheeler, CEO of Greenbacker. "We are pleased to announce that due to the dedication of our technical asset management staff and the great work of our construction partners, Solar Frontier and McCarthy Building Cos., we were able to complete the commissioning of the project in September."

During construction, McCarthy hired 150 local workers. The project consisted of installing 976 single-axis trackers supporting 140,976 solar panels. To train the local workforce, McCarthy implemented principles of Training Within Industry (TWI), a program originally developed by the United States Department of War in the 1940s. Through its TWI solar program, McCarthy applies its "Learn. Perform. Repeat" methodology and offers training to workers who have little or no experience in solar installations.
"We're pleased to complete our first solar project with Greenbacker, successfully adding to their solar portfolio and clean energy solutions in California," comments Scott Canada, senior vice president of the renewable energy team at McCarthy. "Working with a local labor workforce that we were able to successfully train, our renewable energy team was able to complete the project on budget and early, allowing for it to be commissioned a month ahead of schedule."