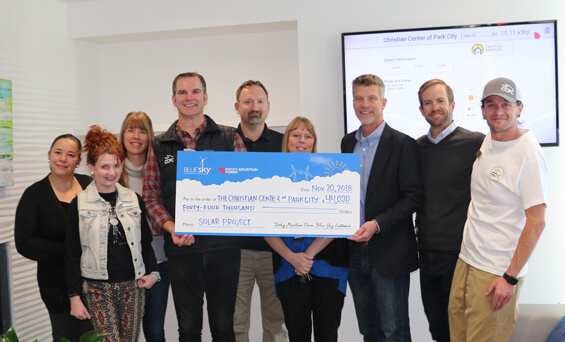 A new solar project will help offset energy usage and save money for the Christian Center of Park City (CPPC), a humanitarian community resource center in Utah.
An 81-panel solar array, which will offset the center's energy usage by 36%, was made possible by a $44,000 grant from customers of Blue Sky, a Rocky Mountain Power (RMP) program that provides funding for community-based renewable energy projects. Through the program, customers buy renewable energy in 100 kWh increments, called blocks, for $1.95 more per block per month. RMP then buys renewable energy certificates on their behalf and also develops small-scale renewable projects.
CCPC, which helps improve the lives of people and communities through meeting immediate and basic needs, serves as a networker of community resources and offers counseling and care support. Through the solar project, the organization is expected to save more than $3,000 per year in energy costs, according to RMP.

"That money can be redirected to offer new learning kitchen opportunities for our food pantry clients; mental wellness services through our counseling center; and winter clothes, jackets and gear for local low-income kids," says Rob Harter, executive director of CCPC. "Blue Sky customers have played a part in enabling us to do more for our community, and we are thankful."
This marks the Blue Sky program's 145th project, as well as its 17th project in Park City. Since 2006, Blue Sky has provided more than $10 million in funding to community-based renewable energy projects.
"Organizations like CCPC play a crucial role in our community," notes Gary Hoogeveen, president of RMP. "We are grateful to Blue Sky customers for supporting renewable energy generation while making these projects possible."