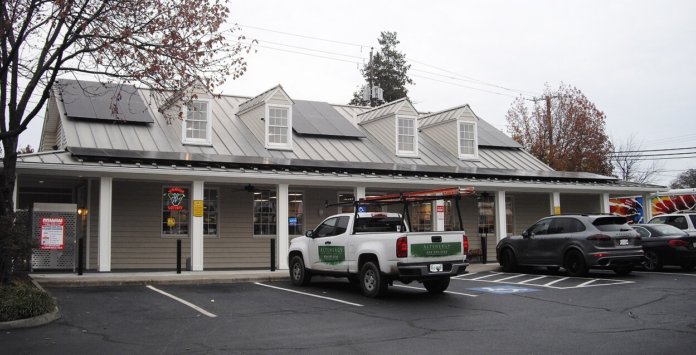 A new solar project from Altenergy Inc. is now helping power a Tiger Fuel Co. gas station's convenience store in the Rose Hill neighborhood of Charlottesville, Va.
The 17.15 kW rooftop system uses 49 solar panels that are expected to produce 25,095 kWh of power annually, representing about half of the electrical needs of the facility, The Market at Preston Avenue.
"We'd been considering solar for several years," says Gordon Sutton, president and CEO of Tiger Fuel. "And in the last 18 months or so, the price for panels has reduced to the point where solar became feasible for this location. Tax incentives help increase the return on investment, so we determined that it was time to make the commitment. I have friends who are in the solar energy field, and they assured me that the time was right."

Altenergy, based out of Charlottesville, designed and installed the project.
"Tiger Fuel Co. has been very successful in the fossil fuel industry," says Shawn Cooke, Altenergy's director of operations. "And I have to congratulate Gordon for his forward-thinking approach to reducing the company's carbon footprint. He sees the value in green practices and is dedicated to finding more ways to keep improving."
Another local Tiger Fuel store, The Market at Ruckersville, will add a solar array that is expected to supply up to 60% of the facility's electricity needs. The 54.4 kW system is expected to provide an estimated 59,271 kWh of renewable power annually.