Although the residential solar market continued to stabilize after a down 2017, the Section 201 solar tariffs took a toll on utility-scale solar installations in the third quarter of this year, according to newly released insight from Wood Mackenzie Power & Renewables and the Solar Energy Industries Association (SEIA).
According to the U.S. Solar Market Insight Report for Q3, for the first time since 2015, quarterly additions of utility-scale solar photovoltaics fell below 1 GW, highlighting the impact of the tariffs and the uncertainty surrounding them in late 2017 and early 2018.
In total, the U.S. solar market installed 1.7 GW of solar PV, representing a 15% decrease from Q3 2017 and a 20% decrease from Q2 2018. However, the report notes that a strong project pipeline lies ahead.

"Developers originally planning to bring projects online in Q3 2018 were forced to push out completion dates to Q4 2018 or Q1 2019 due to uncertainty around tariffs," remarks Colin Smith, senior analyst at Wood Mackenzie. "We did, however, see utility PV procurement outpace installations fourfold in Q3, showing that despite the tariffs causing project delays, there is substantial growth ahead for the U.S. utility PV sector."
Even with the tariffs, the report projects that the fourth quarter will be the largest quarter for utility PV installations since Q4 2016, as Wood Mackenzie expects many of the delayed projects to come online by the end of the year.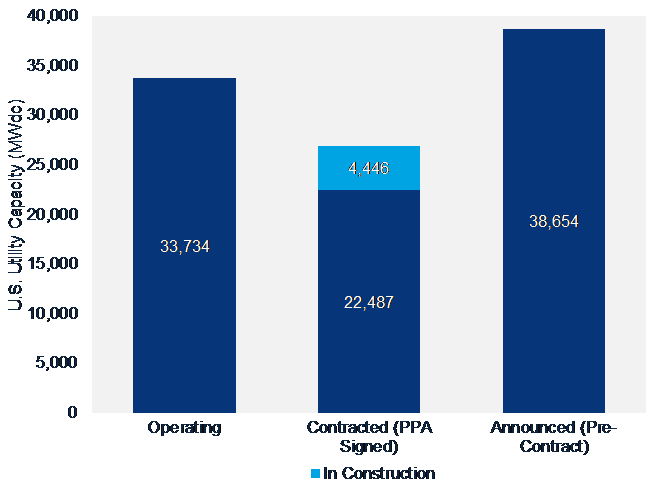 On the residential side, Q3 was the third consecutive quarter in which residential PV was essentially flat or marginally up on both a year-over-year and quarter-over-quarter basis after the market had contracted by 15% in 2017. Nevada was a particular bright spot, as the state experienced steady installation growth, and Florida is on pace for a strong year.
The report says there was positive quarterly growth in the non-residential solar segment, despite a year-over-year decline. Specifically, non-residential PV grew 6% quarter-over-quarter but declined 6% year-over-year.
In particular, California's commercial sector experienced solid growth, and New York saw a record-breaking quarter. Minnesota's community solar build-out continued, with more than 400 MW added so far this year.
"If not for the tariffs, the U.S. solar market would undoubtedly look better today than it does now," says Abigail Ross Hopper, SEIA's president and CEO. "However, as this report shows, this is a resilient industry that cannot be kept down for long. With smart policies in place, the potential for the solar industry is hard to overstate."
For the entire year, Wood Mackenzie forecasts virtually flat growth in 2018 vs. 2017, with 11.1 GW of new PV installations expected this year. Further, total installed U.S. PV capacity is expected to more than double over the next five years, and by 2023, over 14 GW of PV capacity will be installed annually, according to the report.