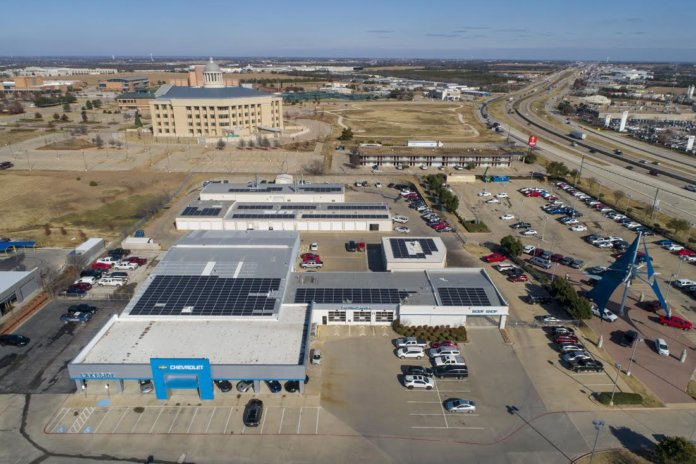 Lakeside Chevrolet of Rockwall, a family-owned Chevy dealership in north Texas, will source nearly one-third of its electricity from a newly installed rooftop solar system.
Lakeside, which has been in Rockwall for almost 50 years, will be the first auto dealership in Rockwall to tap into the power of solar, according to Dallas-based Sunfinity Renewable Energy, which designed, engineered and managed the installation of the project.
The 588-panel system, totaling 199.9 kW, is located on four Lakeside buildings: the primary dealership building, the service shop, the auto body repair shop and the warehouse. The system is projected to offset more than 300,000 kWh of power per year, with a savings exceeding $566,000 in electricity costs over the next 30 years.

The dealership was able to save on the cost of the system by combining a 30% federal investment tax credit with an incentive from utility Oncor.
Brad J. Snyder, president of Sunfinity's commercial division, points out that Lakeside's solar generation also lowers its electricity demand during the highest-priced periods, allowing the company to lock in remaining electricity needs at a lower price per kilowatt-hour with the electricity provider.
"This provides an optimized on-peak/off-peak load shape with budget certainty over the life of the solar asset," he explains, "which is expected to be 30 years or more."
"Going solar is not only an environmentally friendly choice, it's actually a strategic advantage," says Bob Holliman, Lakeside's dealer. "North Texas is an extremely competitive market for automobile sales and service; if we can save on utility bills – and the savings start day one – then that money can go into services that will make a real difference for our customers, helping our business grow."