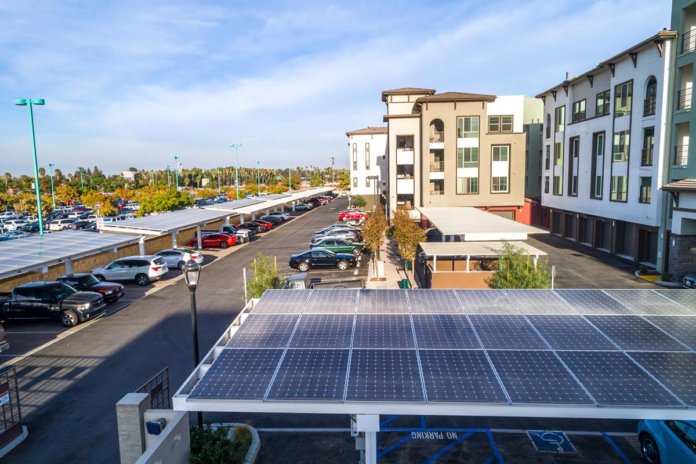 SDC Energy, a provider of commercial solar financing, recently launched its Powering Title 24 Program with partners Baja Construction and Grid Technologies.
Designed to help apartment builders and owners meet California's new Title 34 residential solar requirements under S.B.100, Powering Title 24 combines solar carports, virtual net metering software and tax-enabled financing.
"Powering Title 24 turns compliance into profits," says Charles Schaffer, CEO of SDC Energy. "Solar carports generate tax credits and accelerated depreciation benefits that offset all of their construction costs. Working with our partners, we can build PV-powered carports essentially for free while creating a new revenue stream for multi-tenant property owners."

In addition, A.B.802, which will take effect in June, requires all California multifamily building owners to disclose their properties' energy usage for Title 24 compliance. Leveraging solar energy will be a critical component in compliance strategies, the partners explain.
The linchpin of the new program is custom financing that provides secure, flexible terms for solar installers and their customers while enabling private investors to cut their tax bills with PV incentives. After installation of the carport system, Powering Title 24 makes sure that the project's electricity is distributed efficiently.
"Our energy monitoring system leverages virtual net metering to create a passive revenue stream for building owners," says Dover Janis, co-founder and CEO of Grid Technologies. "Owners gain from the sale of solar while tenants save five to 10 percent on their utility bills. Plus, adding solar boosts property values up to two and a half times the cost of the installation."