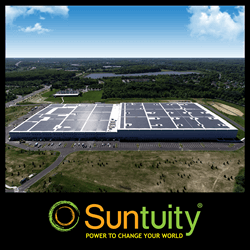 Suntuity, a turnkey solar solutions company based in central New Jersey, has delivered a new rooftop solar project for Aurobindo Pharmaceuticals' new warehouse in East Windsor, N.J.
The project, comprising nearly 17,000 panels from Solar World (now owned by SunPower), boasts a capacity of over 5.5 MW and an estimated annual output of over 6,000 MWh. Aurobindo's new warehouse facility totals half a million square feet.
"We procured, engineered and installed enough solar panels on the facility's roof to offset about 50 percent of the location's expected average yearly electric consumption," says Dan Javan, CEO of Suntuity. "We're excited to continue on the path of building sustainable business practices that directly affect the bottom line of our customers and partners, which include pharmaceutical giants like Aurobindo Pharmaceuticals."

Aurobindo Pharma Ltd., headquartered in Hyderabad, India, manufactures generic pharmaceuticals and active pharmaceutical ingredients that are exported to over 150 countries.
The new installation complements Aurobindo's continued commitment to sustainability; it also has a 30 MW solar project in India.